IS RECORDS MANAGEMENT AN UNTAPPED SOURCE OF SAVINGS?
SIGN UP NOW TO GET THE REPORT:
5 Proven Ways to Cut Costs with Records Management Efficiencies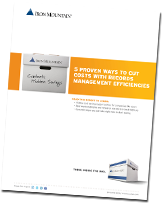 Learn techniques backed by real-world examples and research to start tapping into records management as an overlooked source of savings. And see how companies like yours are thinking inside the box to cut expenses while delivering new levels of efficiency and productivity.
In this report, you will learn how to:
Cut hidden operating costs
Uncover unnecessary capital expenses
Stop spending money to store documents you don't need
Outsource for efficiency and cost predictability
SIGN UP NOW
TO GET THE REPORT